Light attraction and disorientation is a major issue for this nocturnal seabird, particularly as Kaikoura is in the flight path between mountain breeding colonies and the ocean. During mid-March to early April many hundreds (potentially thousands) of fledglings crash land and become stranded in the Kaikoura township on their maiden flight to sea.
The Trust is promoting an increased awareness programme via the Fly Safe event (scheduled each March to April). This will ensure maximum input from the Kaikoura community and visitors, enabling the collection and release of as many crash landed birds as possible – with a central drop off point at the Hutton's Hub adjacent to the Department of Conservation office.  Please complete a FLYSAFE – Hutton's Shearwater Rescue Log to help with scientific investigation of these crash landings.
Additionally, the Trust is also working with the Kaikoura District Council to upgrade existing lighting networks, to more seabird friendly lighting.
Kaikoura residents and others can help to reduce the loss of young birds from mid-March to early April by:
turning off any non-essential outside lights
directing light sources downwards with hoods or covers
closing curtains at night
driving carefully to avoid hitting crash landed birds on roads
keeping dogs and cats contained or indoors at night to prevent predation
taking all found crash landed Hutton's shearwaters to the Hutton's Hub, to ensure release at an appropriate site.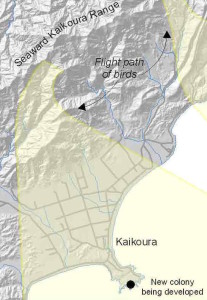 ---
Found A Crash Landed Hutton's Shearwater During March And April?
If you find a crash landed Hutton's shearwater in the street or on your property, collect it, keep it safe in a cardboard box, and do not try to warm it up.
Please drop any crash landed birds off at the 'Hutton's Hub' adjacent to the Kaikoura Department of Conservation office on 115 Ludstone Road.
Birds will then be fitted with a uniquely numbered stainless steel band, weighed and measured before being released at sea. The sites where crash landed birds are found are being studied by researchers from the University of Canterbury.
The rescue log for recording crash landed birds can be downloaded from our website under 'Latest News' and will also be available at the Hutton's Hub, Kaikoura District Council, Encounter Kaikoura, Whale Watch Kaikoura and Kaikoura schools.
 
Hutton's Hub
Adjacent to the Department of Conservation office,
opposite the Ludstone Road High School entrance,
Behind the big DOC shed.
115 Ludstone Road, Kaikoura, 7300
Phone: 022 FLY HOME (022 359 4663)