The Hutton's shearwater / Titi breeding season is about to begin and birds are returning to their mountain homes over the coming weeks. Please watch out for stranded birds in and around Kaikoura. Even not as frequent as fledglings, adult birds can crash land too, particularly during the first months of the breeding season.
The Hutton's Hub on Ludstone Road is now open to drop off rescued birds. You can find more information on the poster below and on our website under Crash landing / fallout.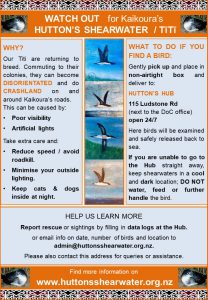 Many thanks to DOC, our volunteers and wonderful Kaikoura community for your support and care.